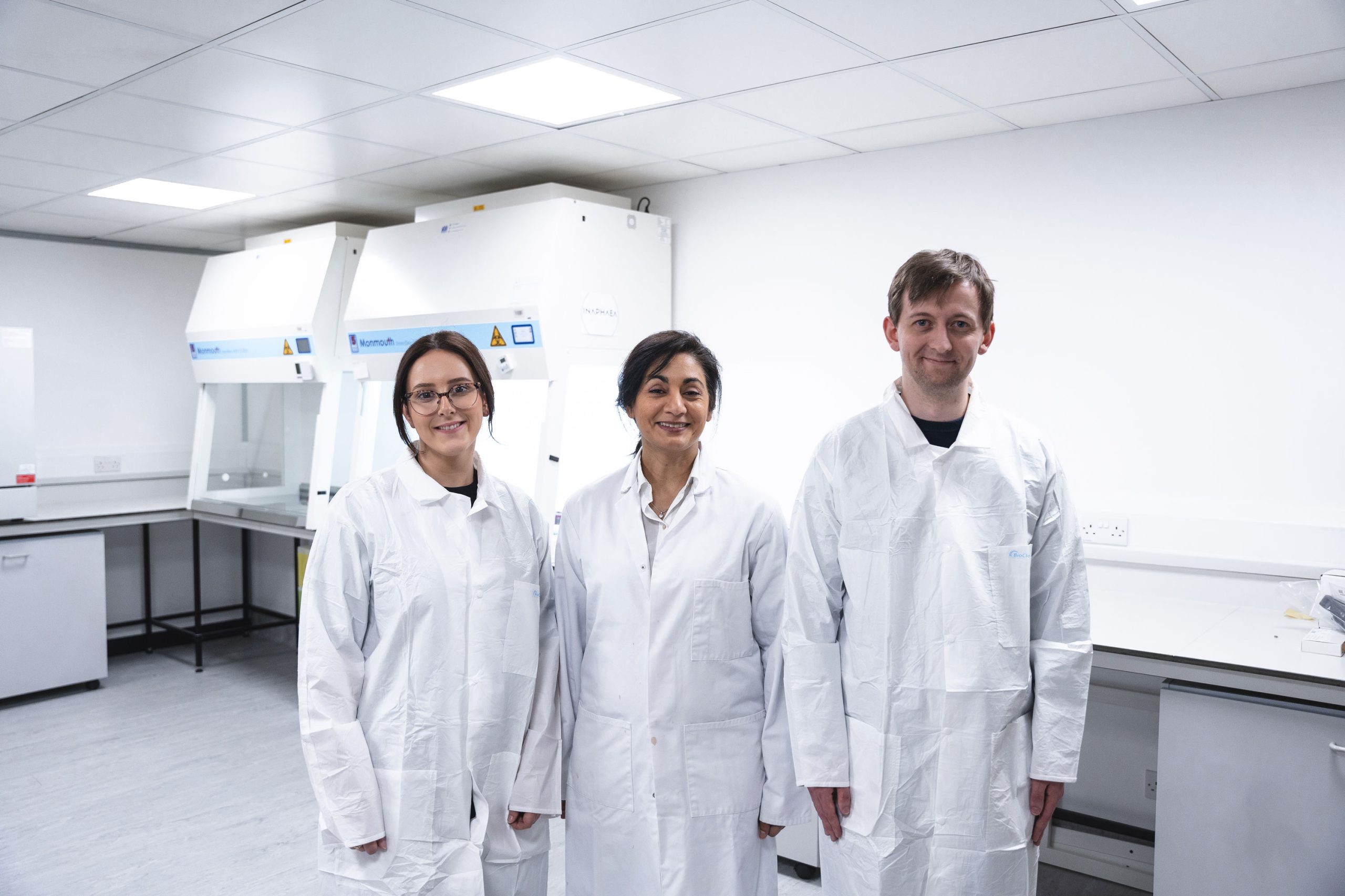 Our Team
Experts in pharmaceutical services
LAB TEAM
Lead Scientist

Melissa Barr

Melissa began her career in drug discovery after completing a BSc (Hons) degree in Biochemistry and MRes in Cancer Biology at Nottingham Trent University. Melissa's research focused on investigating phenotypic changes in metastatic prostate cancer in response to gene editing. After completing her degrees, she worked full-time at a COVID testing facility. Melissa then progressed into working at a large CRO as a Senior Scientist. Here she contributed her biochemical and cell-based assay expertise to client projects spanning the preclinical drug discovery pipeline from hit identification to lead optimisation. Melissa brings her practical laboratory experience, academic understanding of oncology and commercial experience in the CRO space together for her role as Lead Scientist.

Senior Scientist

Dominic Lowen

Dominic Lowen is a cellular biologist specialising in cancer biology with a keen interest in exploring advanced technologies. Dominic began his scientific career by undertaking a BSc and MSc degree in Biochemistry and Bioscience, respectively, at the University of Leeds. During his MSc, Dominic was awarded a PhD scholarship to investigate the role of histone deacetylases in blood cancers. After completing his PhD, Dominic was employed at a CRO as a bioassay development scientist where he supported multiple clients over a wide range of therapeutic areas through the optimisation of bespoke cell-based assays for preclinical drug discovery.

Scientist

Amelia Hatfield

Amelia's passion for drug discovery began after she obtained her BSc (Hons) Degree in Pharmacology at Nottingham Trent University. Her desire to focus on cancer research led her to pursue an MSc Degree in Oncology at the University of Nottingham, where she conducted her research project in the Children's Brain Tumour Research Centre (CBTRC). Her academic journey continued at the University of Nottingham, where she worked towards her PhD, with a primary research goal of understanding the mechanisms of actions of a set of anti-cancer agents in colorectal cancer, with a specific focus on mutant KRAS.
COMMERCIAL TEAM
Head of Strategic Commercial Development

Andrew Carnegie

Dr Andrew Carnegie has been working in the area of business development since 2006, after finishing a Ph.D. in Cell & Molecular Biology and a PostDoc studying Dopamine Receptors. During his career, he has worked for companies in the R&D space, pre-clinical and biomarkers for clinical support, winning multiple back to back sales awards in several companies. Company history includes: Organovo for 3D cell technologies, Aptuit for pre-clinical services projects and Millipore for early-stage screening studies. Since moving into Business Development, Andrew has never lost his passion for science and science-based technologies, and that forms the basis of his approach when talking with project partners.
BOARD
Director

Gerry Desler

Gerry is a chartered accountant, who qualified in 1968 with a City firm, before becoming a Partner (1970) and Senior Partner (1985). During his time in the City, he has specialised in consultancy work, much of it involving funding and venture capital. Gerry was previously the Finance Director of Premier Management Holdings plc, an AIM listed company and is on the board of a number of private companies.

Director

Suzanne Dilly

Also CEO of Inaphaea's parent company, ValiRx PLC, Dr Suzanne Dilly is an experienced entrepreneurial scientist. After commercialising her chemical biology post-doctoral research in the University of Warwick spin-out, a2sp Limited, Suzanne was awarded a prestigious Royal Society of Edinburgh Enterprise Fellowship, during which formal commercial and entrepreneurial training completed her transition from lab to boardroom. Completing commercial transactions to progress projects through multiple companies, Suzanne has been working in small company virtual biotechs since 2006.
SCIENTIFIC ADVISORY SUPPORT
Chief Scientific Officer

Cathy Tralau-Stewart

Cathy is an experienced therapeutics development scientist and pharmacologist. Working within some of the world's leading pharma and academic research establishments she has developed a broad knowledge of drug discovery and the translation of early research innovation into developable drug discovery programs.

Preclinical Project Manager

Zai Ahmad

Zai has over 25 years experience in the life science industry. Originally in Neuroscience, looking at synaptic junctions associated with memory and neurotransmitter release and pathways associated with Parkinson's Disease and cardiovascular regulation. Zai moved to oncology as an opportunity to be closer to patients and to have a direct impact on patient survival. Working at the Institute of Cancer Research (ICR) for 14 years, Zai established a specialism in xenograft and transgenic models for use in drug development.

Scientific Consultant

Gareth Griffiths

Dr Gareth Griffiths, holds a PhD in Immunology/oncology from the University of Birmingham and is now a scientific specialist in the isolation and growth of patient derived tumour cells. He has several years postdoctoral experience at the University of Manchester which was followed by a role as a specialist in high content imaging assay development at AstraZeneca. Following this, he cofounded Imagen Therapeutics, a company providing a CRO service to pharma and biotech. An entrepreneurial driven scientist, he developed Imagen successfully over a 14 year period. He has proven expertise at every level of developing a company, encompassing commercial activities all the way to scientific project delivery. Combining his knowledge of advanced cell image analysis, patient derived tumour development and expertise in Immunology, he is now working to support Inaphaea as a scientific consultant.